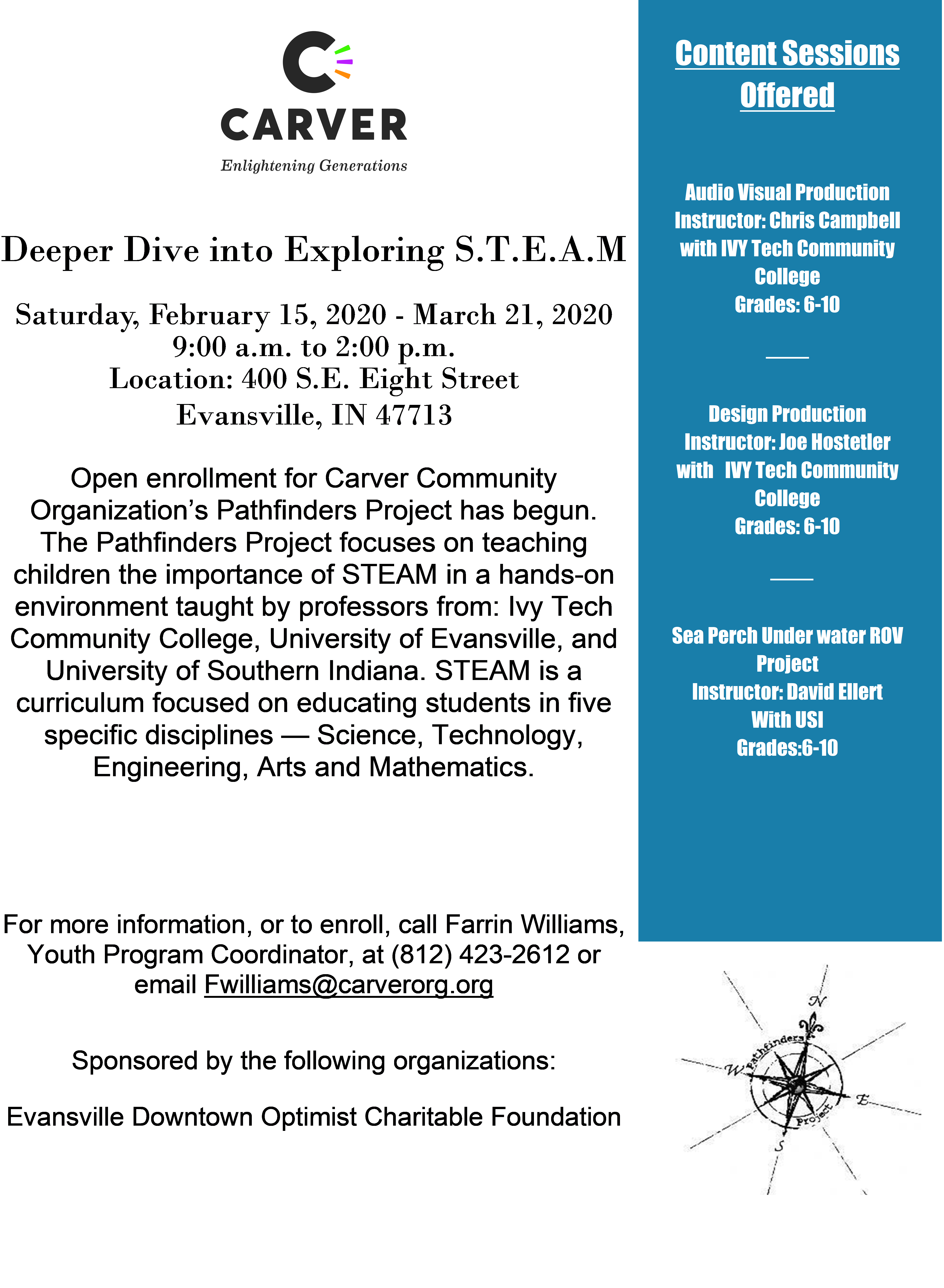 Whether students attend Carver after school, over the weekend, or during summer camp, our activities are designed to meet the unique needs of each child and boost their confidence in themselves and their accomplishments.
Youth programs are offered at our Neighborhood Center and at the C.K. Newsome Community Center. We provide limited transportation from local schools to our facilities.
K-5 After School Program
After school activities embrace the unique developmental needs of each student while serving families that require childcare. Our staff is available for homework assistance and our programs engage students with art and music, health and nutrition, and science and technology. A healthy snack is provided daily.
Hours and Transportation
Monday - Friday
2:30 pm - 5:30 pm
Carver provides transportation from select elementary schools to the C.K. Newsome Community Center. Transportation services may be limited or discontinued based on the number of children registered from a particular school. If school is dismissed early due to inclement weather, Carver won't provide transportation. Call to inquire about which schools we serve.
Enrollment
Carver is open to all children who may benefit from our programs regardless of race, creed, sex, religion, nationality, or ability to pay. We guarantee placement in our program only if we have the following information:
Enrollment & Food Application
Emergency Contact Information
School Progress & Photo Release Form
$10 registration fee paid upon enrollment


Cancellation Policy
A 2-week written cancellation notice is requested when withdrawing your child from the After School Program.
Along with the After School Application below please also complete the following:
Summer Camp
Our summer program, Camp Twister, focuses on the retention of academic progress gained during the school year. But, it's also a fun and enjoyable way to spend the summer.
All activities are hands-on and develop knowledge and skills in arts and crafts, health and nutrition, gardening, dancing, technology, and more. We also plan for special activities, like field trips to local attractions.
Hours of Operation
Monday - Friday
6:00 am - 5:30 pm
Enrollment
Carver's Summer Camp is open to students ages 5 - 12 years old. Enrollment includes weekly meals and snacks with:
$76 per week registration fee
$60 one-time activity fee
Childcare vouchers are accepted


Along with the application below please complete the following:
Pathfinders Project
The Pathfinders Project teaches pre-teens and teens the importance of S.T.E.A.M. (science, technology, engineering, arts, math) subjects in a hands-on environment taught by instructors from local universities. The first, and only ongoing, content session is Carver Reel TV. In Carver Reel TV, participants work together as members of a TV news production team to plan, produce, and edit their own newscast. Other content sessions have included: Science and the Human Body, Planes and Rockets, and Print, Imaging, and Design.
Hours of Operation
Six week series on Saturdays in the Spring and Fall
9:30 am - 2:00 pm
Enrollment
Pathfinders Project is open to students in 6th - 8th grades. Breakfast and lunch are provided during the six week session. Enrollment applications are made available during the open enrollment period.
Extreme Sports
In the summer, Carver kids can enroll in our sports academies. The program focuses on teaching participants sports they can enjoy for life, as well as the value of sportsmanship and teamwork. Sports include:
Golf
Tennis
Swimming
Hiking
Fishing


Hours of Operation
Tuesday, Wednesday, Thursday
5:30 pm - 8:00 pm